Happy Friday everyone!
Welcome back to part 2 of the top London landmarks to visit on your student tour! In case you missed part 1 you can find it here.
Shall we get started?
6. St. Paul's Cathedral.
This grand cathedral is perhaps one of London's most beautiful buildings. Designed by the great architect Sir Christopher Wren, St. Paul's Cathedral is actually the 5th religious building to have been built on this site. The first was constructed in 675 AD out of wood, and the current one underwent construction in 1666 after the Great Fire of London. St. Paul's has the second largest dome in all of Europe (after St. Peter's in Rome), and every traveler should visit it as well as its famous Whispering Gallery.
7. Tower Bridge.
Synonymous with London, the design for Tower Bridge was won through a competition by Horace Jones in 1884. The goal was to find a design that allowed boats to pass underneath while cars could cross above. Started in 1886 and completed eight years later, Tower Bridge was officially opened in 1894 by Edward VII. Even though Tower Bridge is familiar with London, many people are shocked to hear that it isn't that old.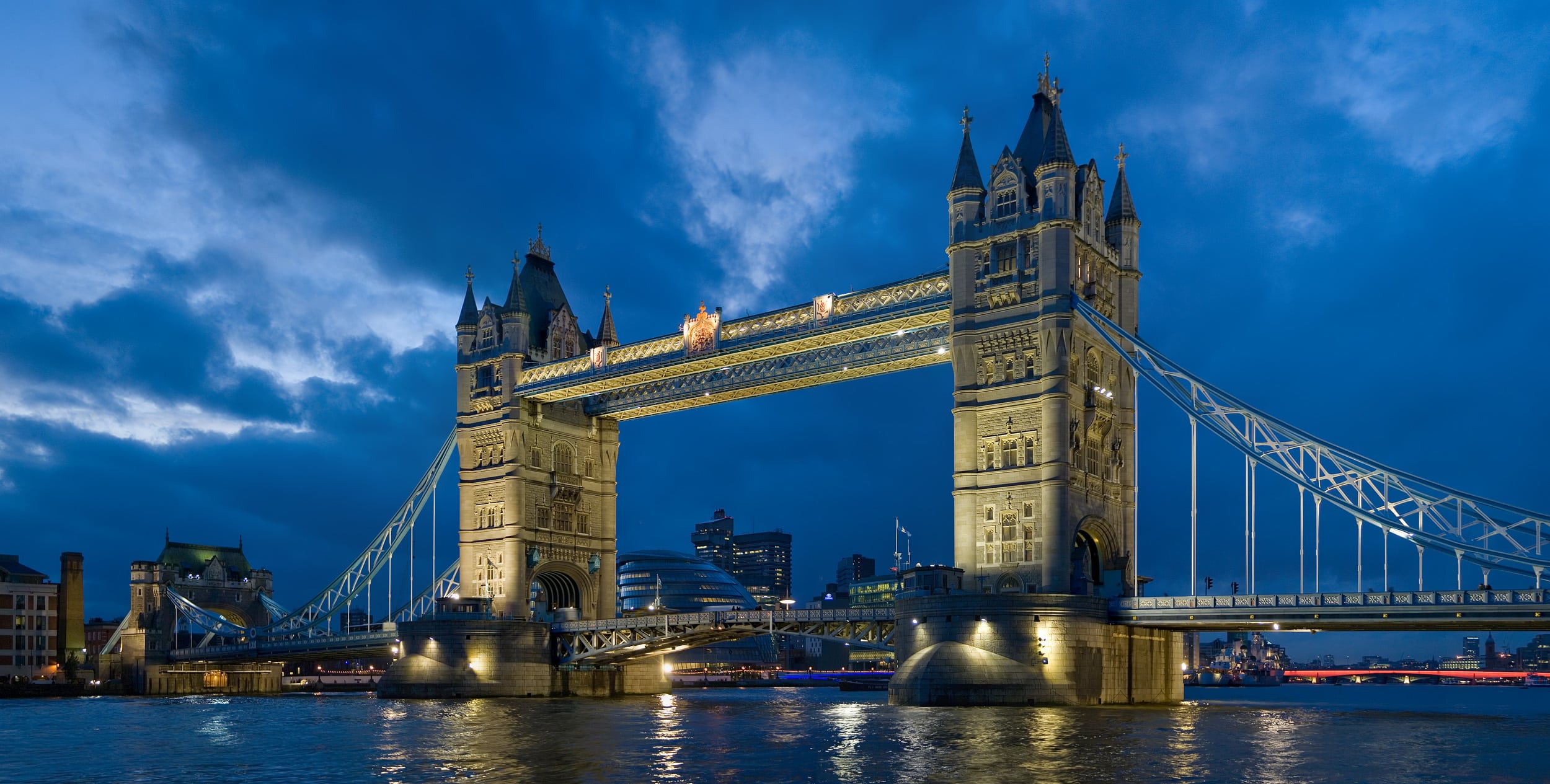 8. Tower of London.
The Tower of London is an imposing fortress built along the River Thames that is one of the oldest and most visited attractions in all of London. Now designated as a World Heritage Site by UNESCO, the Tower of London was built in 1066 by William the Conqueror after the Norman Conquest. The tower has been an important symbol in London for over 900 years as it has served as a palace, prison, royal mint, execution yard, and holder of the crown jewels. For this reason, the tower has many layers of history that has appealed to visitors for numerous years wanting to hear its stories. Legend has that some of its most famous visitors haunt the grounds to this day such as Henry VI, Lady Jane Grey, and Anne Boleyn.
9. Trafalgar Square.
Constructed between 1829 and 1841 by John Nash and Charles Barry, Trafalgar Square has long been a central meeting point for Londoners and tourists alike. It has also been used for demonstrations as well as celebrations. While on your educational student tour, be sure to visit London's largest square, and admire Nelson's column that stands in the middle. The column commemorates the victory of the country's greatest naval hero Admiral Nelson in the Battle of Trafalgar. Nelson's Column is one of London's grandest monuments that rises 185 feet off the ground and guarded by four majestic lions at the base.
10. Westminster Abbey.
Known as the Collegiate Church of St. Peter at Westminster, it is here that the kings and queens of England were anointed and crowned in lavish ceremonies. Take some time to tour this gothic structure on your educational student tour because it won't disappoint. While taking in the gorgeous architecture, try to find the famous individuals who have been laid to rest here such as Charles Darwin and Sir Isaac Newton.
I hope learning a little about these places has left you wanting to travel and see the best of London! Through participating in a student tour, you are not only learning about these unique and cultural sites, but you are having experiences that will change your life forever. So come be a part of history, and see the wonderful city of London with your eyes on an educational tour with EA Tours!
Get traveling,
Kate