Any tour itinerary would be somewhat incomplete without a great shopping experience, and a couple souvenirs packed into your belongings. So, the time has come when your educational tour is coming to an end, and you begin to panic because you have no idea what to bring home for yourself, family and friends.
Don't worry we've all been there…
Apart from the lasting memories it is always nice to have a memento from a special trip. When hunting down the perfect souvenir, my advice is to go off the tourist path in search of something that truly represents the culture of the country you toured. Below I have chosen ten countries with my picks for the most authentic souvenirs.
If you're ready, let's get started on our shopping adventure!
1. China.
China is at the top of my list for being one of my favorite travel destinations. The country is so huge that there is a plethora of souvenirs to choose from. The Chinese knot is an unique souvenir because it's not only a traditional handicraft, but it also has a long history with different cultural connotations. The Chinese knot can be made into different symbols each with a unique meaning. Some examples are "full of joy," "happiness and longevity," "double happiness," and "luck." These time-honored expressions convey warmest regards and best wishes. Serving as a national symbol exclusive to China, this hand-made souvenir makes for a special gift.
Out of all the souvenirs that I have acquired throughout my travels my most cherished is a hand-painted fan from the region near Yangshuo in Southern China. These hand-painted decorative fans are the best souvenirs one can take home from this region. The locals specialize in this ancient art that depicts colorful and picturesque designs.

 Batik art is also a popular option in the Yunnan province of Southwest China. Batik art dates back thousands of years and continues to be made by the ethnic groups. This type of art goes through a multi-step process, and the finished product can be turned into wall hangings, clothes, and numerous other things. A final souvenir that I would suggest picking up is a Chinese paper cutting. Paper cutting is distinctly a Chinese traditional art and also dates back thousands of years. The only things needed are a pair of scissors and red paper; from there these artisans craft extraordinary designs that leave you questioning how they made something so wonderful out of only a sheet of paper.
2. England.
Moving beyond the postcards of Big Ben and Buckingham Palace, key rings, and cheesy t-shirts England offers some great souvenirs! So head away from the tourist traps and instead shop where the English shop. After doing so, you will find something that evokes the true essence of England, tea!
From hundreds of types of tea, to tea-pots, and tea accessories England has you covered. This national drink has become a daily staple with the English and they have definitely perfected the art of tea. I suggest heading over to the original Twining's tea shop/museum where you will find an assortment of everything tea-related. If you prefer to go the food route head to the food hall in Harrod's and check out their jams and jellies. You'll be amazed at the selection of goodies they have to choose from. Take a look at the rest of the food hall as well as it is quite a site to see!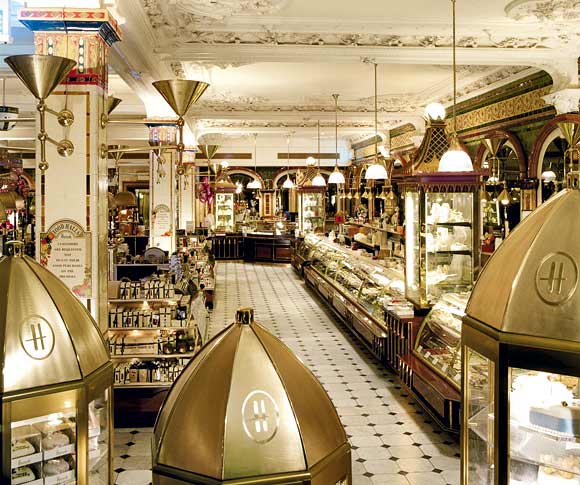 If you are interested in memorabilia of the royal family, I would suggest looking at things from the Royal Wedding. Since 2012 was the Queen's Diamond Jubilee, and perhaps you have a little extra money to spend, have a look at the official Jubilee commemorative items. For the women out there a fascinator would be a wonderful souvenir to remind you of your journeys. This one of a kind headpiece is a must for formal gatherings in England and can even be worn to cocktail parties.
Have you ever visited China and/orEngland? If so, what goodies did you pick up on your travels? Do any have a special meaning to you? I would love to know so leave me a comment! If you are interested in seeing my picks for the best souvenirs in France and Ireland come back on Monday. Lastly, if you have some free time this weekend, take a mini roadtrip to a nearby town and pick up a fun memento.
Have fun shopping,
Kate