Hello and happy Friday educational travelers!
As you guys are aware, I've slowly started sharing with you my winter break adventures that my family and I had while traveling throughout Scotland and England this past December. Hands down, one of my favorite educational travel activities to do while visiting either of these two extraordinary countries is to visit as many castles as I can.
And this trip was no exception.
One of the first castles we visited was Doune Castle. Once a powerful medieval stronghold, Doune Castle is located near the village of Doune which is nestled in the Stirling district of central Scotland. To me, I find castles to be so intriguing. What with their history-filled rooms, secret passages, military might, and fascinating lives of their owners, castles have a little something for everyone and serve as a perfect addition to any EA student tour.
I'm looking forward to sharing a more in-depth look at Doune Castle in one of my future posts, but for today, I wanted to give you a glimpse into one of its unique characteristics. Now, I must say, I'm usually not one to go for the audio guide as I'd much rather prefer to wander about myself while reading the informational placards, however, if you do happen to visit Doune Castle on your student tour they're included with the price of admission and I suggest you make sure to get yourself one. It's even moderated by Terry Jones of Monty-Python fame!
It was while listening to the audio guide portion in the kitchen that they mentioned to make sure and have a look at the knife marks cut into the stone. I searched them out quite easily and was amazed at how many there were. The reasoning for these marks is that during the thirteenth century and later, the cooks didn't have knife sharpening tools so they would instead sharpen their knives by slicing them into the stone. This would provide a nice sharp edge making the cooks' jobs a lot easier. Even though this was but only a small piece of information, it's the little things like that that allow me to fully appreciate the educational site that I'm visiting.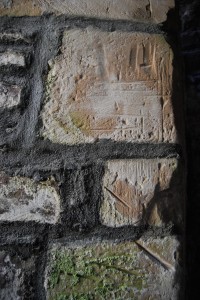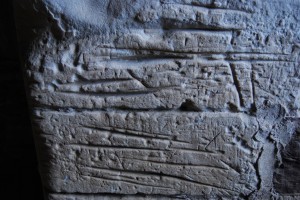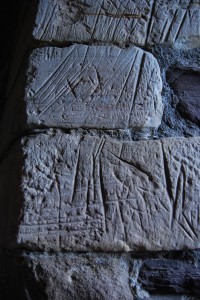 There are so many castles that dot the landscape of Scotland and England that it could take a good while before one visits them all. However, I'm always down for a good challenge and I think students would be too. I mean who doesn't love a good castle? Overflowing with history and stories to be told, castles offer a glimpse into the past for eager students and teachers who are willing to listen.
Have a great weekend,
Kate.