EA Tours Blogs - 2014 and Prior
Posted on by Marla Cioni
Happy Friday everyone! I hope your Halloween festivities yesterday were lots of fun.
For today's photo, I want to show you a side of Normandy that is still reminiscent of WWII.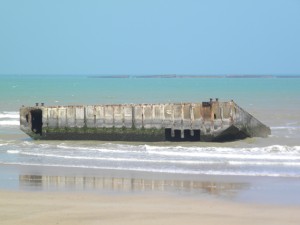 While on my educational tour this past summer, I travelled to Normandy to partake in the annual D-Day celebrations. I've always wanted to visit Normandy and pay my respects to the lives lost during that tragic time, but actually having the chance to be there on D-Day itself was something out of a dream.
I visited such sites as the American Cemetery and Memorial and the landing beaches of Omaha, Utah, Juno, and Pointe du Hoc. The day was cold and windy, but the sun was shining bright as we made our way from each beach, town, and memorial site. US flags were flying high and to this day the people of Normandy are so grateful for our help during the war. There was nothing quite like the hospitality of the citizens in the Normandy region.
buy an essays
You yourself can visit Normandy on your own educational tour with EA Tours. Feel free to check out a sample itinerary here or plan a unique trip with the help of our friendly staff. The EA Tours promise is always "Your trip, your way!"
-Kate.