Scotland is a magical place.
From its majestic beauty that draws you close, to the warmth and kindness of its citizens and spectacular castles, Scotland is a wonderful country to visit on your student tour.
Speaking of castles, Scotland is overflowing with them. One of my favorites to visit is Balmoral Castle located in Aberdeenshire.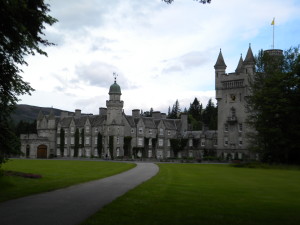 Since 1852, Balmoral has been the official residence for the British Royal Family, when visiting Scotland on their summer holiday from August until September, since Prince Albert purchased it for Queen Victoria. It was so beloved by Victoria that she said it was her "dear paradise in the Highlands." Balmoral is a favorite of the royals, and on your student tour to the United Kingdom you can view it and let it become your favorite castle as well.
Seeing as Balmoral is the private residence of the Queen, only the ballroom is open to visitors. However, don't push aside the idea of adding it to your itinerary. The ballroom is amazing and there's still plenty to see and learn about like the history of the castle itself!
Balmoral is in the Scots Baronial architecture and is truly marvelous. Once inside the ballroom, you'll have the chance to view works of art, silver statues, Minton China, and other priceless artifacts. Be sure to take notice of how huge the ballroom is. I can only imagine what the parties and special events are like. Something else that stood out to make is the wonderful tartan carpet. While the ballroom is the only room open, students and teachers can also wander around the well-manicured grounds.
When doing so you'll find the breathtaking formal and vegetable gardens. Take some time to explore and view the different varieties of what's in season or growing. Also on the grounds are a few cottages that are very quaint and welcoming.
The mission of offering educational tours to visitors is to contribute to the local economy all while protecting the environment. Balmoral Castle is perfect stop for student groups who are planning to visit the United Kingdom on their educational student tour. I hope you'll allow EA Tours to help you plan the tour of a lifetime!
Happy Valentine's Day tomorrow and until next time,
Kate.