EA Tours Blogs - 2014 and Prior
Posted on by Marla Cioni
The time has come…
You pull your suitcase out of storage and begin the dreaded task of packing. The first thing you might ask yourself is where do I even begin? Often times, packing can be overwhelming; especially when you have to take into consideration the location of where you're headed, the weather, and even cultural situations.
The #1 tip I have is to pack lightly! You'll thank me when the time comes and you ever have to lug your suitcase up 5 flights of stairs. Also, that means more room for souvenirs from your wonderful educational student tour.
To make your life a little easier, I have compiled a list of items that you should pack. Writing a checklist works better for me so I don't forget anything. Also, don't forget that there are a ton of great apps out there that will help you with packing. Side note: look out for our posts on travel apps very soon. Without further ado, here is the grand list of packing.
Your passport! It's the sole thing you need in order to travel internationally on an educational tour.
Casual/comfortable clothes for those long days of sightseeing on student tours.
Dress clothes for events and/or nightlife.
A comfortable pair of walking shoes for long walks and touring. I can't stress this enough!
Dress shoes.
Undergarments/socks.
Umbrella.
Sunscreen.
Bathing suit.
Bug spray.
Hat or baseball cap.
Jacket.
Gloves/scarf for cooler weather.
Toothbrush/toothpaste.
Shampoo/conditioner/soap.
Personal hygiene products.
Hairbrush.
Q-Tips.
Make-Up/ skin care products.
Contact lenses.
Band-Aids. You don't want to get blisters!
Prescriptions. In addition to your medicine, bring a copy of your prescription to verify that it belongs to you.
A small shoulder bag/backpack is useful for day-trips within your educational trip. EA Tours supplies each student traveler with their own backpack to take with them on their trip.
Electronics and the cords that come with them.
A few extra helpful tips:
Most importantly, don't forget to pack your passport, other forms of identification, and travel documents. You wouldn't get very far!
Some items, depending on the weather and your specific itinerary, can be taken out or added.
Read over your itinerary and make sure that you have the appropriate clothing for each day's agenda. Some religious sites require that guests adhere to their dress code which may include covering your arms and shoulders.
Include a few extra shirts in case you get wet or dirty due to weather or outdoor tours.
Pack an extra change of clothes/socks/undergarments in your carry-on in case your luggage is lost/stolen.
I hope this list has proved helpful for your educational travels. If something was left out that you believe should be packed leave me a comment. I'd love to hear what you guys pack in your suitcases!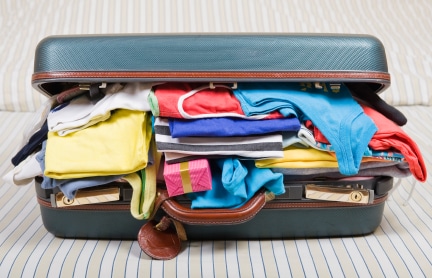 Happy packing,
Kate