Lying southeast of the massive Australian continent is New Zealand, a country with two major islands in the South Pacific—referred to as the North and South Islands. While a majority of people have heard of New Zealand and may even choose to visit, a lot of others aren't even sure where it's located.
The inhabitants (referred to as "kiwis") are as unique as the country itself, which offers some of the most stunning landscapes in the world. For perspective, New Zealand is about the land size of the state of Colorado. Compared to Australia on a map, it looks tiny!
During this unusual and frightening time with the novel coronavirus, New Zealand, while not unaffected, has managed to stay relatively free of major outbreaks. For a significant period of time, it was even able to stay completely free of the virus. This is one of many very appealing things about this country. What has never changed is the amazing flora, fauna and people of this tranquil slice of Earth.
The North Island is home to Auckland, one of the three biggest cities in New Zealand. The capital, Wellington, is located near the North Island's southernmost point on the Cook Strait. For the more cosmopolitan set who enjoy a vast array of shopping, nightlife, restaurants and a big city feel, Auckland is a great option to include on a trip down under. Many major airlines service Auckland, Wellington or Christchurch, another large city on the South Island.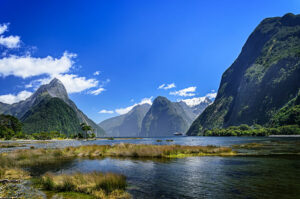 Regardless of what island you may choose to focus on and no matter where you go, the beauty is abundant. It is often said that there are "more sheep than people" in New Zealand and this is quite literally the truth! The human population is quite low—4.5 million, with just over 5 sheep per person. It doesn't take long to see that the natives are humble yet proud, down to earth and about as real as they come.
The people itself are an eclectic mix of European, Asian and Maori, the true natives to the land. You will be able to hear a variety of languages, meet a wonderful mix of people and experience the most interesting blending of cultures when visiting this small but compelling country. The trip to get there from the USA may be a bit lengthy, but the rewards are undoubtedly worth it. Kia Ora!