EA Tours Blogs - 2014 and Prior
Posted on by Marla Cioni
Happy Monday educational travelers!
For today's museum spotlight I bring you the Los Angeles County Museum of Art otherwise known as LACMA.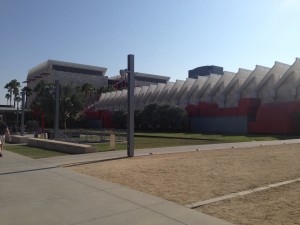 This stunning museum is located in downtown sunny LA and is the perfect stop for students on their educational tour. Opened in 1965, the museum is comprised of several buildings that are home to a collection of some 100,000 pieces!
The collection at LACMA is so diverse that it ranges from Art of the Pacific and Islamic Art to American Art and Art of the Ancient World. Be sure to check out the museum's masterpieces as well. Students and teachers will find Flower Day by Diego Rivera, Weeping Woman with Handkerchief by Pablo Picasso, and Shiva as Lord of the Dance among other great works. Along with the ever-changing exhibitions, LACMA provides its visitors with a rich historical collection as well as contemporary art in a truly distinctive way.
If you're thinking about planning your next student tour to California, I encourage you to add LACMA to your itinerary. It's a wonderful place where students and educators can engage in lively discussions about the various works of art they see. Through doing so, students will increase their powers of perception and perhaps stimulate a greater interest in the visual arts.
So while there is much to discover, plan an afternoon to allow your students to search out their favorite artists or uncover a new one, take a free tour, immerse themselves in one of the many invigorating museum talks, or let their curiosity get the best of them and lead them on their way. Whatever you choose to do, your time at LACMA will be an incredible one!
Until next time,
Kate.