To discover and sample dishes from around the world can bring you even closer to the exciting adventure that's awaiting you! Food, wonderful food – EA Tours encourages you to try this delicious, and very healthy, dish from FRANCE.
Discovery Updates will be bringing you various wonderful dishes from around the world!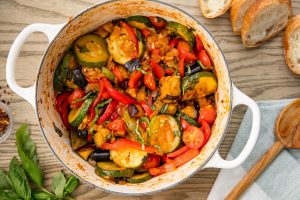 They say a way to a person's heart is through their stomach. We'd add that it's the quickest way to learn about a person's country, too!
Cuisine is a calling card that crosses borders, bridges, cultures and broadens horizons. You can learn a lot from another country's food and how they prepare it. Whether it's the ancient origins of the Mediterranean diet, the provincial specifics of different Chinese plates, or the European/North American blending of Canadian snacks- every course has the potential to offer insight into places and cultures.
Don't take our word for it! Try preparing one of these iconic European dishes at home and prepare to let your taste buds take you on a journey that spans miles in a single bite!
France – Ratatouille
A famous provincial dish from the French coast, using many amazing vegetables such as eggplant, zucchini, tomato and onion with red, green and yellow peppers. Ratatouille can be used as a main dish over rice or as a side dish with a meat or fish entree.
Healthy, low-fat summer stew
The word ratatouille is derived from an Occitan term, 'ratolha', plus two French words: Rata-meaning chunky stew; and Touiller-meaning to toss food or stir up.
1877- Cassell's Dictionary of Cookery introduced the word Ratatouille to the English language.
2007-Disney's Pixar made the word Ratatouille famous to American culture.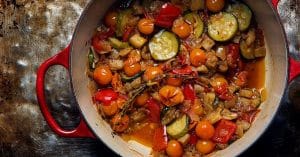 Image from The Tasting Table: Classic French Ratatouille Recipe
ADDITIONAL RECIPE LINKS:
Classic French Provencal Ratatouille