This past summer, I travelled to one of the most delightful and welcoming travel destinations in the world, the Republic of Ireland. The people here are extremely friendly, and always willing to help point you in the right direction. They will also be glad to offer a local's opinion on where to eat or what attractions to visit. Everyone instantly falls in love with this charming country, and I for one was no different. The Irish sense of hospitality is truly amazing.  An educational tour to Ireland is the perfect starting trip for any educators wishing to bring their students to a country that will not only make for a relaxing and fun trip but also a trip full of history and new places to explore!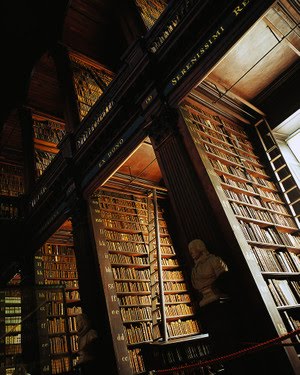 That being said, the capital city of Dublin is the perfect place to begin your educational tour as it offers a wide array of locations to seek out. Perhaps the most well-known site is that of Trinity College. The college was founded in 1592 making it older than the United States which is pretty amazing! So why is Trinity College so famous? Hmm…maybe you've heard of a little thing called the Book of Kells? This legendary book is an illuminated book entirely written in Latin and contains the four Gospels of the New Testament along with other various texts and tables. After viewing the amazing Book of Kells for yourself, head upstairs to see one of the most spectacular libraries. The Long Room Library houses thousands of books stacked all the way to the ceiling! However, the most famous object here is the Trinity College harp also known as Brian Boru's harp. The harp is one of Ireland's national treasures as well the national symbol of Ireland. The image of the harp can be found on the country's coins as well as on anything Guinness. After walking the grounds of one of the most prestigious colleges in Europe, head on over to see St. Patrick's Cathedral, Dublin Castle, the Molly Malone statue in Dublin's Fair City, St. James' Gate near the Guinness Brewery, or the Hapenny Bridge over the River Liffey.
After seeing all that Dublin has to offer, it is now time to head out into the countryside and possibly visit one of the three World Heritage Sites found in Ireland and Northern Ireland. These are Brú Na Boinne, Skellig Michael, and the Giant's Causeway. I'll be going into more detail about these sites to see in a later post so make sure to frequently check back! Educators also have the choice of taking their students to the Cliffs of Moher, Blarney Castle, or the Ring of Kerry all while stopping and enjoying the unique towns along the way. It's completely up to you as to what you want your students to see. Remember EA Tours provides custom-built tours YOUR way! Here is a sample itinerary that includes Educational Tours to Ireland, Britain, and Scotland and another one that covers Educational Tours to Ireland, England, and France.
I invite you to come for the "craic" (pronounced "crack" meaning the Gaelic word for fun), and appreciate all the wonderful things that Ireland has to offer. Ireland is a country rich in folklore and tradition that has a fascinating history to go along with it. Experience traditional Irish music and dance in a pub, indulge in traditional Irish food, and pamper yourself with some fabulous shopping. Visit the castles and manor houses that are sprinkled up and down the country and try your hand at finding that Irish leprechaun. 🙂  See how good you can pronounce words in Gaelic all while taking in the breathtaking scenery that Ireland is known for. It isn't called the Emerald Isle for nothing. Just remember to take a break from snapping pictures and take a deep breath of that fresh air. As you may have heard, Ireland, once visited, is never forgotten. That saying rings true for my ears as I'm already yearning to travel back to that delightful destination.
 Until next time,
Kate