Hello travelers!
I hope everyone is enjoying the New Year, and sliding back into their normal routine without any trouble.
As you may recall, in December I shared a photo of the incredible Hearst Castle located in San Simeon, California. You can view that post here. Today, I'd like to elaborate on the extravagant home of William Randolph Hearst and why it should be included on your next California educational tour.
The 40,000 acres of ranch land were bought by George Hearst, William's father, in 1865. George was able to purchase the land due to the fortune he made in Nevada's Comstock Lode and other various investments. The land was a working ranch, and George frequently brought his friends and young William there for outings. A deep fondness for the outdoors grew during these times for William. His mother, Phoebe, also made sure he appreciated history and the arts. In 1873, Phoebe, 10 year old William, and his private tutor left California on the adventure of a lifetime!
Embarking on an 18 month grand tour of Europe, William was exposed to the many diverse cultures, art, and architecture that can be found throughout the continent. The memories of what he saw stayed with him for the rest of his life and are reflected in the treasures that he collected. Throughout William's years as a journalist, he continued the tradition of bringing friends to the ranch for camping trips. In 1919, Hearst wrote to Julia Morgan, an accomplished architect, saying "Miss Morgan, we are tired of going up there and camping in tents, I would like to build a little something."
Within a few weeks, William started thinking of the ranch on more grandiose terms. Mr. Hearst's idea was for several buildings to surround the main structure reminiscent of a Spanish hill town. This "Enchanted Hill" would also include 2 swimming pools and lavish gardens.
Casa Grande was constructed from reinforced poured concrete, starting in 1922. It's comprised of 115 rooms, 38 bedrooms, 42 baths, 14 sitting rooms, 2 libraries, a billiard room, and a movie theatre spread out on four floors. The façade is similar to a cathedral due to its twin towers which were inspired by the church of Santa Maria la Mayor in Ronda, Spain. Casa Grande would come to house Mr. Hearst's ever growing collection of antiques and art.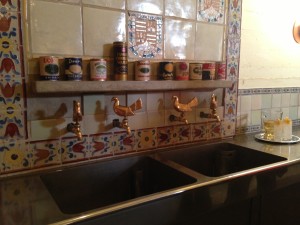 The first of the three cottages was called Casa del Mar meaning "House of the Sea." The 18 room cottage was named for its extensive views of the Pacific Ocean. It's in the Mediterranean Revival architectural style, and was initially the residence of Mr. Hearst. Casa del Mar took the most time to build than the other two guest houses because it was richer in architectural elements. It also took longer due to delays in shipping, difficulties in executing it to Mr. Hearst's standards, and many design changes.
The second house is Casa del Monte meaning "House of the Mountain." The 10 room cottage received its name for its stunning views of the rugged Santa Lucia mountains. This was the Hearst family's earliest quarters. Similar to the first cottage, this house has a 16th century Spanish Renaissance feel.
The final house is Casa del Sol meaning "House of the Sun." Located between the first two houses, Casa del Sol's name comes from its position towards the setting sun. The architectural elements differ than the previous two houses. Casa del Sol features Moorish elements with round-arched windows as well as two small towers and an openwork balcony screen.
Perhaps my favorite area though is that of the Neptune Pool. It began as a garden with a small lily pool, which Hearst referred to as the Temple Garden. On March 31, 1924, Hearst wrote that he wanted to make the pool longer and deeper so it could be used as a swimming pool. The pool is dominated by an ancient Greco-Roman Temple façade and marvelous colonnades in the classic Ionic style. The result is simply stunning and makes you feel like royalty!
Hearst Castle is one of California's most visited attractions, and is a truly magnificent addition to any student tour.  The castle's tour book says that "History may never again record the story of a man whose enormous personal wealth and love of art objects permitted him to conceive, build and furnish a palatial estate the size and magnitude of which, at the time, rivaled anything constructed by kings, rulers, or royal families." William Randolph Hearst was one of the greatest romantics of his time who had a deep passion for history and the arts that sparked when he toured Europe. He was inspired by the magnificent architecture of Europe's castles to build his very own dream "castle" high up on a hill overlooking California's pristine coast. Perfect for students and educators of all subjects, Hearst Castle offers a look at one of the most ambitious architectural projects in American history.
Until next time,
Kate.