Germany and Austria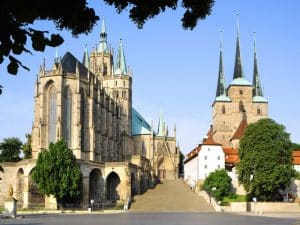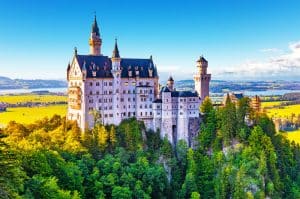 Saturday, May 2nd
Today you depart the United States on your overnight flight to Europe.  Naturally, meals will be served and optional in-flight entertainment offered.  Please refer to your flight schedule for pertinent details.
Sunday, May 3rd
Upon arrival in Frankfurt, Germany, you will be met and transferred to Erfurt.  The remainder of the day will be spent exploring with your tour leader.  Dinner tonight is included.
Monday, May 4th
At 9:00 AM you will meet your guide and begin your guided walking tour.  Points of interest that you will see include Kramerbruck, Domplatz, Petersberg Citadel, St. Mary Cathedral and Church of St. Severus.  In the afternoon you can use you "Erfurt Card" to visit other points of interest.
Tuesday, May 5th
This morning you board the train for Munich.  Upon arrival you will travel to Dachau Concentration Camp for a guided visit and then proceed to your hotel for check-in.
Wednesday, May 6th
Today begins with a walking tour of Munich where you will see Marienplatz with the Glockenspiel, Frauenkirche and Viktualien-Markt as well as many other places of interest.  You will have free time to shop and explore before enjoying a fun dinner at the world famous Hofbrau Haus before returning to your hotel.
Thursday, May 7th
At 9:00 AM you will depart Munich and travel to Ruette, Austria.  En-route visits to Hohenschwangau and Neuschwanstein Castles are planned.
Friday, May 8th
Your morning is free in Ruette for personal exploration.  Some points of interest you may want to see include Burgenwelten Ehrenberg, Evangelische Dreieinigkeitskirche or the MuseumGrunen Haus.  In the afternoon you will continue your tour as you travel to Salzburg.  Tonight you will enjoy dinner and Mozart Concert at St. Peter's Restaurant, the oldest restaurant in Europe.
Saturday, May 9th
A guided walking tour of Old Town and Mirabell Gardens is planned before departing for the Lake District.  Your full day tour is completed at Hellbrunn Palace before returning to your hotel.
Sunday, May 10th
At 8:30 you board your bus for travel to Vienna.  Upon arrival you will explore the city with your local guide.  This evening you enjoy dinner before the concert at the Kursalon.
Monday, May 11th
Your visit to Schonbrunn Palace is scheduled for 9:15 AM.  You then continue to Bratislava, Slovakia, for a lunch break and guided tour.  Following free time you travel back to Austria and have a fun evening at a Heuriger in Grinzing before arriving at your hotel.
Tuesday, May 12th
At 5:00 AM you depart your hotel and travel to Vienna Airport where you board your flight home.  See your flight schedule for details.