Thanksgiving in New York City 2016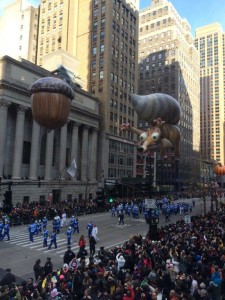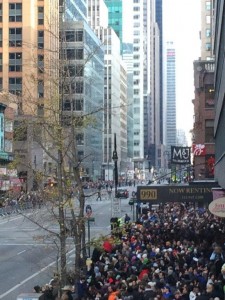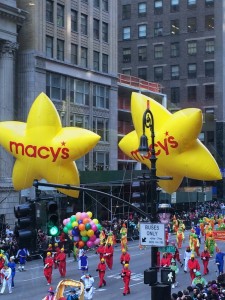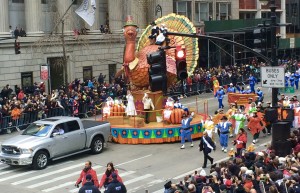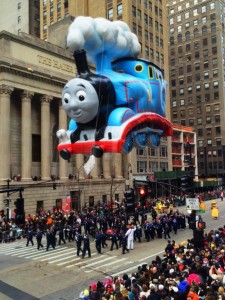 Thanksgiving In New York City 2016
VIP Seating and Brunch for Macy's Thanksgiving Day Parade – Broadway Play – Christmas Spectacular at Radio City Music Hall – New York City Sightseeing Tour – Statue of Liberty and Ellis Island, plus more … Limited to 40 Participants
$1,795.00 Special Land Package Price – Airfares Available Upon Request
You will depart on November 23rd to begin your Thanksgiving in New York 2016, discovering the history and culture of New York City. Excursions to historical sites and fabulous shopping make this trip a once in a lifetime experience. You will return home with amazing memories on November 27th.
Wednesday, November 23
On November 23rd you will arrive to New York City and begin your iconic Thanksgiving Celebration with a Manhattan / New York City Tour ending at your hotel. Following dinner, your first evening culminates with a visit to the Rockefeller Observatory Deck*.
Thursday, November 24
Following breakfast, you will depart for the highlight of your Thanksgiving In New York City; The MACY'S THANKSGIVING DAY PARADE BRUNCH AND VIP VIEWING AREA. You will enjoy a wonderful brunch in a private setting as you marvel for 3 extraordinary hours from your premier viewing area at the most famous procession of floats, balloons, marching bands in the world. This will certainly prove to be a once-in-a-lifetime Thanksgiving Celebration.
Your afternoon will take you to the Statue of Liberty and Ellis Island* followed by the evening's highlight; a performance by the famous Rockettes in the Christmas Spectacular at Radio City Music Hall* .
Friday, November 25
After breakfast at the hotel, the entire day is yours at leisure to dedicate time for Black Friday shopping or optionally exploring such sights as Central Park, Battery Park, Wall Street, Saint Patrick's Cathedral and much more. This evening's highlight takes you to a Broadway play and dinner with a cast member*.
Saturday, November 26
Your day will begin with a visit to the Twin Towers* and 9/11 Memorial and Museum* followed by afternoon visits are planned to St. Patrick's Cathedral* and the Museum of Natural History*. This evening holds a special treat in store with an evening walk of Christmas Displays* in stores along 5th Avenue! Afterwards you may optionally choose to attend an evening theatre performance of enjoy time for last minute shopping and sightseeing before returning home the next day.
Sunday, November 27
You will depart this morning for your flight home, bringing with you memories, souvenirs, and a deeper pride and appreciation for what New York City offers.
SPECIAL TOUR CONDITIONS
Your discounted tour price, applicable when payments are made by cash or check is $1,795.00. The standard non-discounted tour price when paying with credit card is $1,885.00. You can pay the initial $300.00 by credit card and still receive the discounted price if the remaining balance is paid by check or cash.
 Tour participation is based on double/twin occupancy and includes roundtrip airport transfers from a New York area airport (TBA), all breakfasts and 2 dinners. *The entrance fees and/or transportation marked with an asterisk are included in the tour price (Thanksgiving Day Parade with Brunch, visits to the Statue of Liberty and Ellis Island, National September 11th Memorial and Museum, Christmas Spectacular at Radio City Music Hall, Broadway Play and Dinner with Cast Member, St. Patrick's Cathedral, Museum of Natural History and guided city tour). Other items may be offered optionally, are subject to availability, and are not included in the tour price. Single room occupancy rooms may be requested and are subject to additional costs and availability.
All tour participants must submit their online application and $300.00 initial (nonrefundable) deposit no later than September 1, 2016. Initial deposit is fully refundable if the tour does not operate. Apply today online at www.eatours.com using the "student/traveler signup" tab using your Tour Code 217200.
Please Note: This tour offering is limited to a maximum of 40 participants. A limited number of airline seats (at additional cost) based on group contract terms, may be available from certain cities. A group airline contract requires ten or more passengers traveling together on the same itinerary. There may be a limited number of seats available from Atlanta, Tampa, Miami, New Orleans, Memphis and Washington D.C. If you wish to travel from a city that is NOT listed, please feel free to call EA Tours at 352 799 3876 so that we can assist with your flight arrangements.
In order to participate in the City Tour scheduled for the day of arrival, your flight must arrive to Newark Airport no later than 3 p.m. EST.
Additional photographs taken from the viewing area of the Macy's Thanksgiving Day Parade can be seen at EAtours.com. Simply go to the View Your Tour section on the home page and enteryour Tour Code 217200.
Additional Tour Conditions apply and are listed on the online Application and Tour Participant agreement.